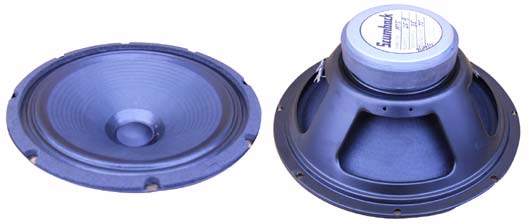 J75-PVC
40 ounce ceramic, 75hz bass response, 12 inch special designed cone, small dust cap with vintage correct doping, spider, and voice coil tolerances. A close recreation of the early Kraft paper voice coils used until late 1967. This speaker's tone is woodier, with more upper mids than the J55.
Warm, detailed midrange enhanced guitar speaker with smooth overdrive and distortion tones. This is an enhanced model speaker never before offered by Celestion in the 60/70's. It's superb tone and sound recreate the early G12M 20w Kraft paper voice coil era "Greenback" that was used in Marshall stacks, but with a tighter bass response, and a little more kick in the upper mids. They have a very pleasing upper midrange voice that cuts through the mix without being harsh. This speaker's tone is bigger, with more bark than the M75, but less treble and more bass than the BlackBack BM75 model, so it's tone sits between those two models.  
The 20w speakers are built to the original Kraft paper voice coil specs. If sent too much power, they will spark or catch on fire. Due to this possibility, they are sold without any warranty, liability or guarantee. Once you mount them, they are non-returnable, period, no exceptions. It is strongly recommended you buy four of these for a 50w amp, and eight for a 100w amp.
The 65w speakers are built with higher temperature nomex voice coils and have a 1 year warranty.
The 65w speakers do not spark or catch on fire.
This speaker is for: Players who want ballsier classic rock tones from the 60's.
| | | |
| --- | --- | --- |
| Specially treated 75hz cone. | | Early Pre Rola style doping just like the originals. |
| 40 oz magnet, 1.75" voice coil, 12" wide. | | 8 bolt pattern allows mounting to most amps. |
| Available in 20 & 65 watt, 98 db. | | 8 ohm & 16 ohm only. |
12-1/8" (30.79 cm) diameter, 5-1/8" (13.01 cm) deep, 7.5 lb (3.40 Kg).
Regular Price: $195.00
*FBI: Factory Break-In of your speakers is only $10 per speaker.
This extra service takes 20 hours per speaker on a variac. The speaker sounds like you played it for 60 hours at stage levels when finished, saving you the trouble of annoying your neighbors, wife, kids and police visits!